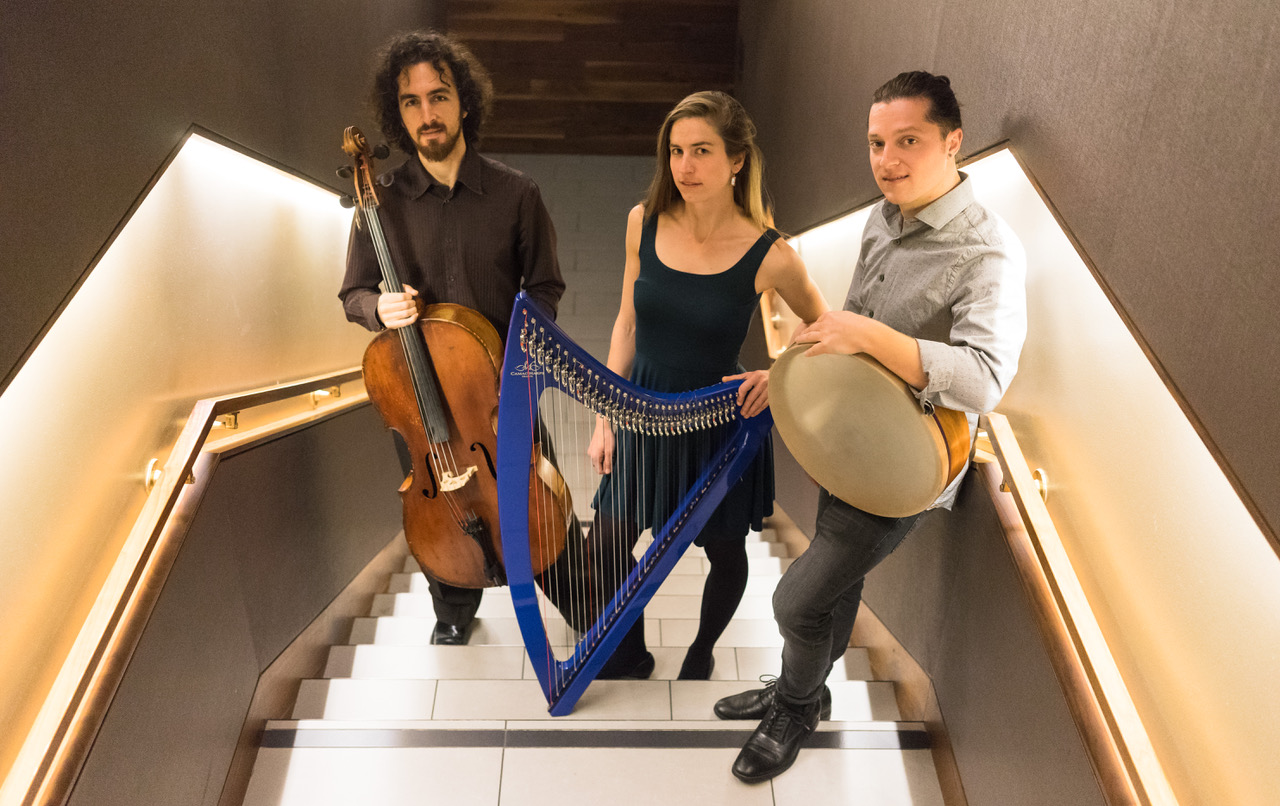 StringQuake and Wind Weavers come together in an evening of innovative instrumental music, led by two Bay Area native composers: Amelia Romano (electric harp) and Diana Strong (accordion). Expect superb musicianship, rhythmic depth and playful improvisation with influences spanning classical, modern, jazz, and a range of international folk traditions.
Wind Weavers plays original acoustic music and a range of eclectic repertoire, both traditional and contemporary. The ensemble features accordion (Diana Strong), fiddle (Audrey Knuth), guitar (Christopher Jacoby), double bass (Travis Hendrix) and percussion (Aziz Yehia). Formed just last year in 2018 when Diana decided to throw herself a birthday concert, Wind Weavers brings together many threads of our collective musical backgrounds and interests, including New England trad, Brazilian forró, Swedish, Balkan, classical and modern. We hope to convey to audiences the excitement we feel as musicians when discovering new grooves, weaving together harmonies and rhythms of diverse folk traditions, and finding an ever greater range of musical expression.
StringQuake formed in 2012 with the mission to use their unique instrumentation (electric harp, cello, and percussion) to transcend audience expectations. They have produced an outpouring of original recordings that harken to the diverse collaborative cultural scene found in their native San Francisco Bay Area. Each performance draws listeners in to hyper meticulous musical arrangements while still giving each trio member soloistic freedom. Impossible to genre-fy, StringQuake's stylistic influences include traditional classical chamber music, jazz, Latin, classical Indian, West African folk and Balkan music. The trio features harpist Amelia Romano, Misha Khalikulov on cello, and percussionist Joshua Mellinger on tabla, cajon, and frame drum.
Tickets are $15 in advance and $20 at the door. Children under 12 are free. Advance tickets are available at the link below, or you may purchase your tickets at the door the night of the show. Doors open one half hour before show time. We accept cash only at the door (ATMs are nearby).

The Back Room is an all-ages, BYOB (for those 21+) space, dedicated to (mostly) acoustic music of all kinds. You are welcome to bring your own adult beverage with no additional corkage fee. If you need more information or have any questions, please call us: #510-654-3808. Thank you for your support!